The Homes We Build is an immersive experience that takes places in six individual tiny homes in Luling, TX. This project explores how intimacy is created and what holds a relationship together over time. Six couples will experience snapshots of a fictional 60-year relationship they create over the course of 4 hours inside of their own tiny home. There's no audience. This is an experience you co-create for yourself and one other person using guided prompts that move you from one life experience to the next.
Created by: Katie Green, Sean Moran, and Michael Rau
Review by Justin West of Central TX Live Theatre here
To call The Homes We Build an "experiential theatre project," as its creators have dubbed it, is a profound reduction of the depth and poignancy of this experience. In Homes, Katie Green, Michael Rau, and Sean Moran have created a towering piece of participatory art that elicits the full spectrum of human emotion. - Justin West
"The Group" is an intimate exploration of grief and death within the safe container of fictional relationships. Two grief support groups run concurrently without knowledge of each other: one for the living and one for their dead. Over the course of two hours, secrets are revealed, a year passes, grief evolves, and life (or death) goes on.

This is not a traditional performance, but a 3-hour, extremely participatory, interactive theatre experience that emphasizes relationships and introspection. There are no audience members or actors, only participants and facilitators. Limited to 14 participants, we are asking each person to improvise and co-create this experience for themselves and each other. Improvisation will be structured, specific, and suitable for beginners. A 45-minute character and relationship creation workshop is included in the three-hour run time, as well as a 10-minute debrief.
Reviewed by No Proscenium here
Q&A by Creators Katie Green and Michael Rau here
Performed as part of the Reimagine End of Life Festival in NYC, Blackbox CPH festival in Copenhagen, Denmark, Reimagine End of Life Festival in San Francisco, and in Austin, TX
THE SHIFT - October 7-16 2016
Part social experiment, part earnest inquiry, this theatrical experience developed from a discussion of what kind of movement could realistically arise in reaction to today's cultural climate. Inspired by 1970's Erhard Seminars Training, personality tests, late night public access television, self-help guru Tony Robbins, and middle school pep rallys, THE SHIFT is the seminar to end all seminars. It is a movement away from feeling and into action. Acolytes of THE SHIFT are coming to Austin for two weekends only to lead an experiential and transformational seminar for groups of 30 people each night. THE SHIFT takes a hard look at our culture's obsession with self improvement, and how that energy might be channeled into improving one's community.
Katie Green Nominated "Best Director" for Austin Critics' Table
Directed by: Katie Green
Devised by the ensemble: Christopher Alvarenga, Katie Green, Tal Leeds, Tim Mateer, Sean Moran, Heidi Penix, & Mary Catherine Rochford
GREAT GOLD BIRD, GREAT DARK YAWN: a wanderplay May 2015
A dark shape, a wooded clearing, a disappearing ship.
A tin cup whistling on a string. Rabbits gathered in a torn dress. Experience a multimedia, site-specific theatre piece/alternate reality game, inspired by classic point-and-click adventure games. You will travel to mystery locations all over Austin to find objects such as letters, photographs, home movies, and time capsules to uncover the narrative alone or in a group, on your own time (within the month of May). It should be completed in 4 hours, but can (and should) be spread out over the course of a week or a month. Smart phone required.
Nominated for a B. Iden Payne award for "Outstanding Theatrical Experience"
THE SOCIETY FOR HARD DETERMINISTS - Oct 2014
An existential haunted house featuring nihilism, initiation rituals, self-help, and bad public access television
The Society for Hard Determinists invites you to become its newest member. Allow us to unburden you from the yoke of choice. Come discover how much freedom there is in letting go of the hardship of voluntary decision. We'll show you how to destroy your ego, and unlock your maximum potential. We think you'll really enjoy the transformational journey we're going to take you on!
Nominated for a B. Iden Payne award for "Outstanding Theatrical Experience"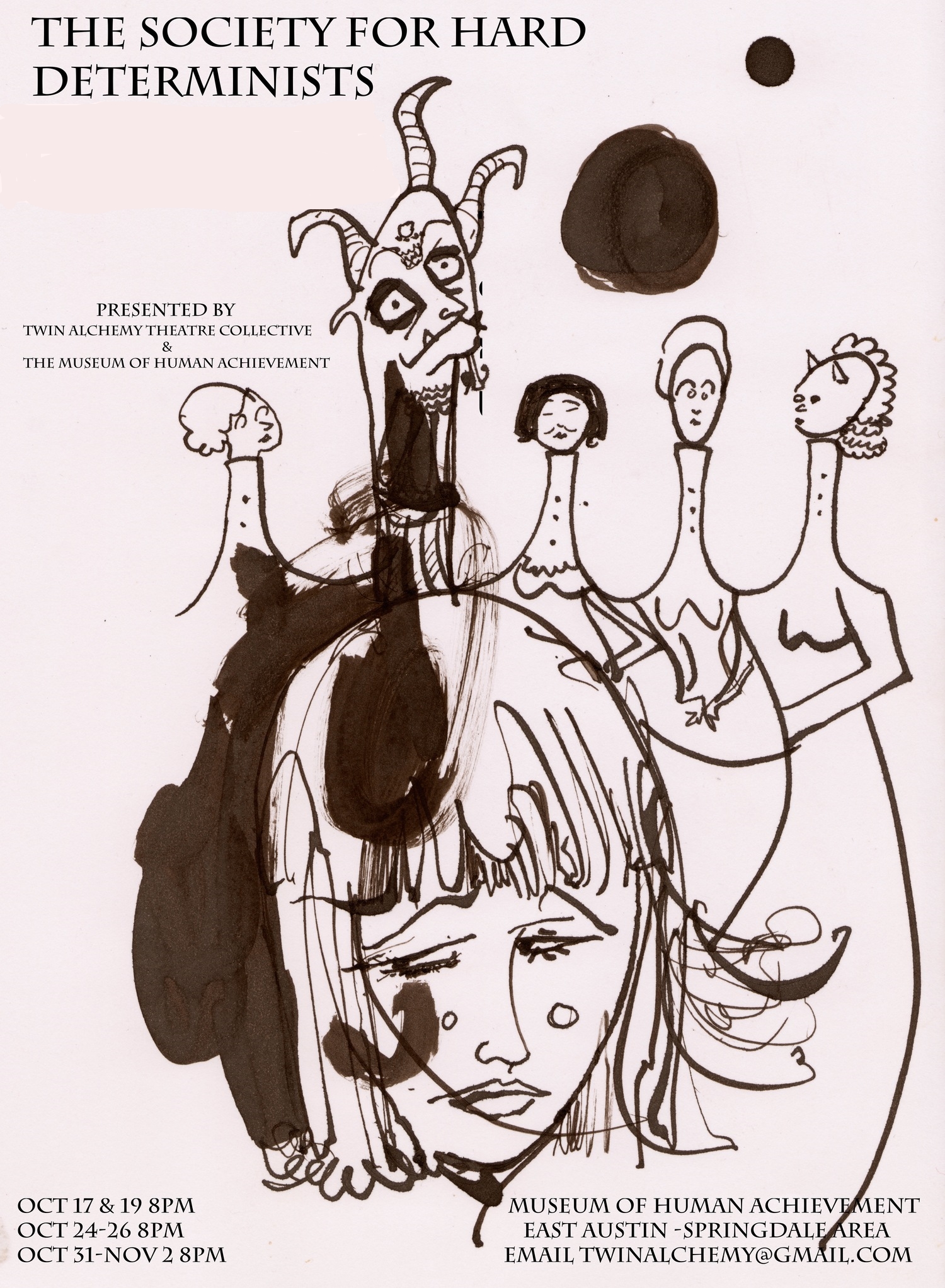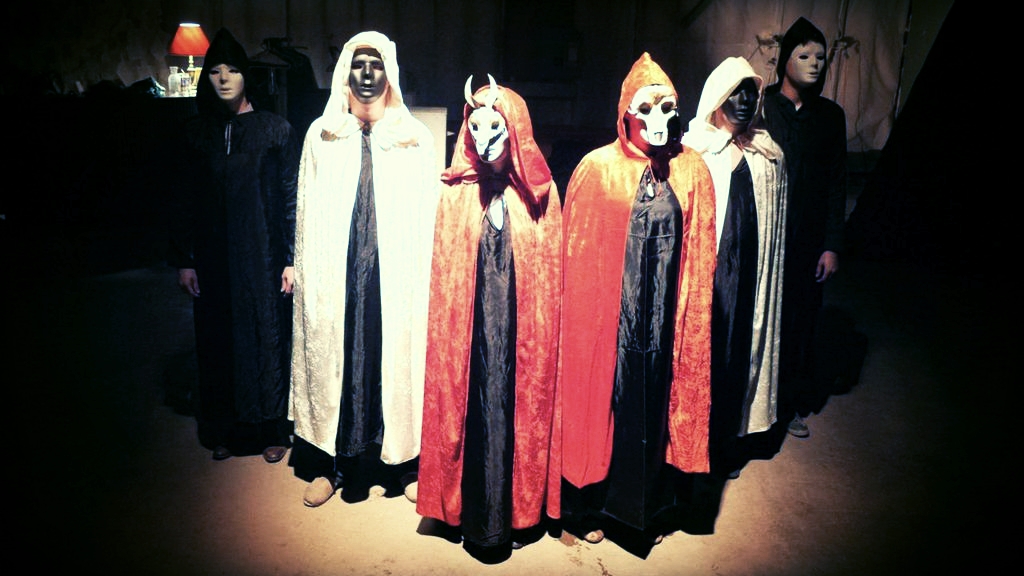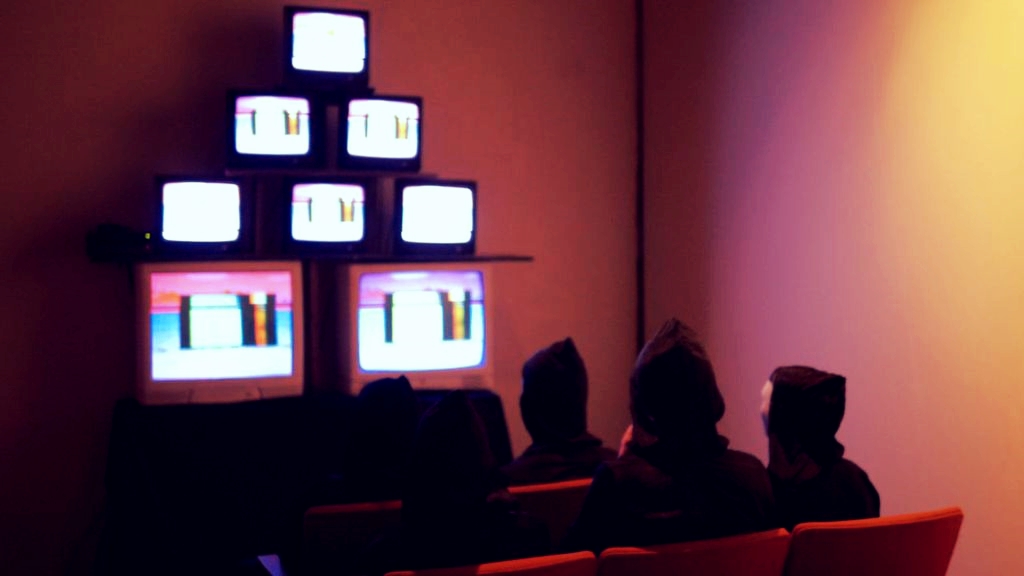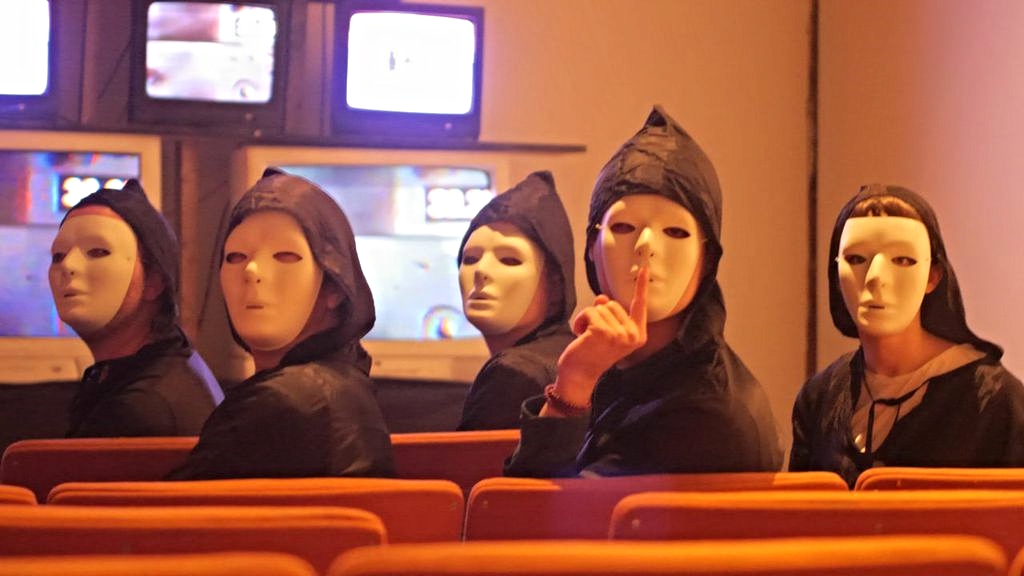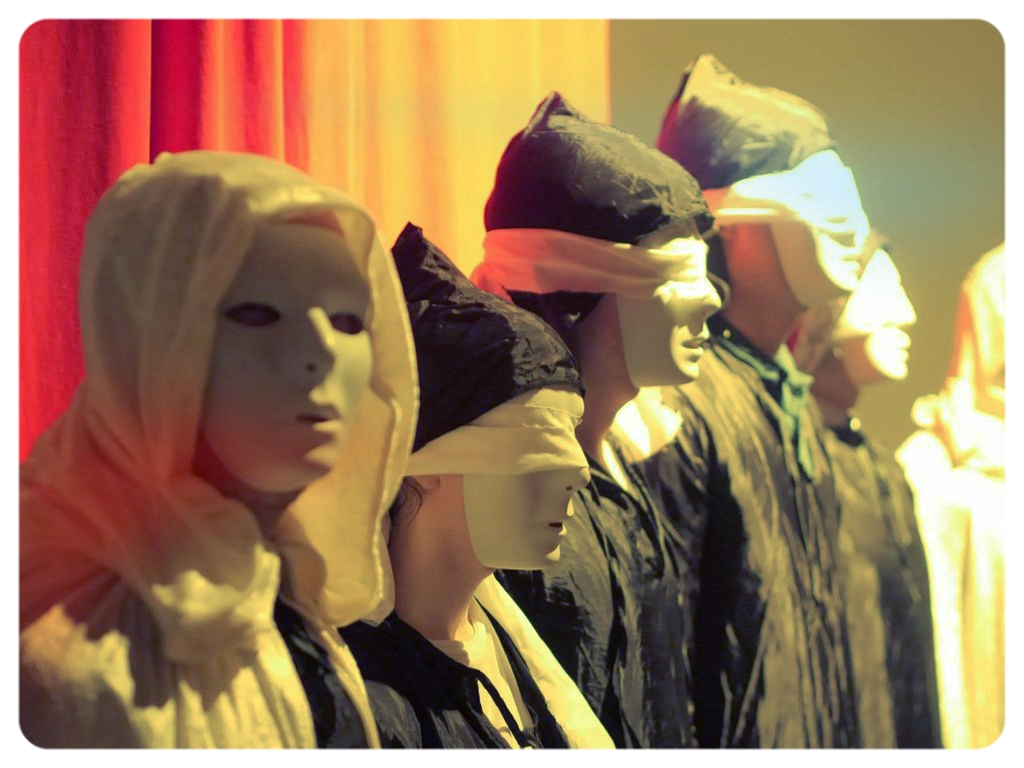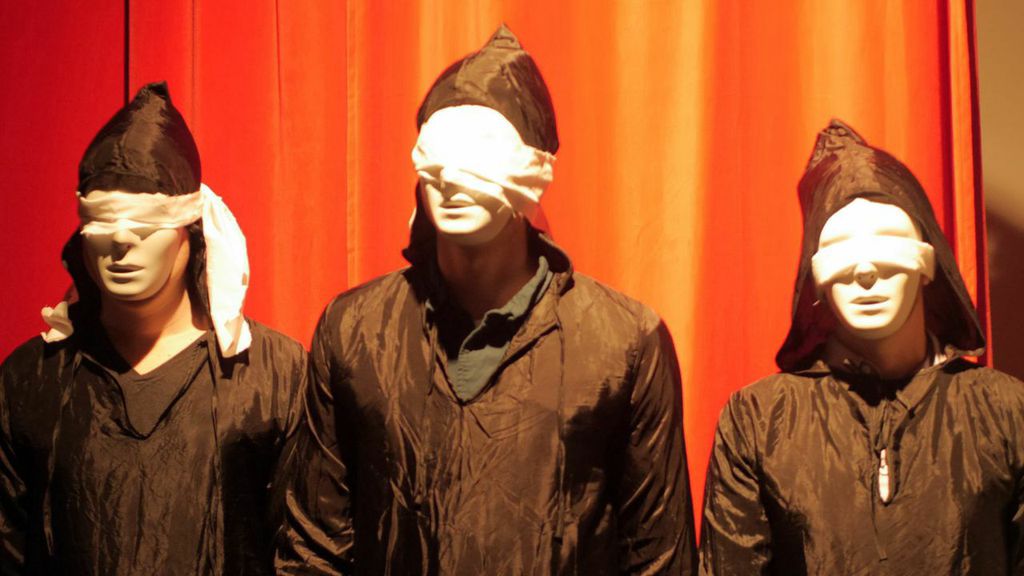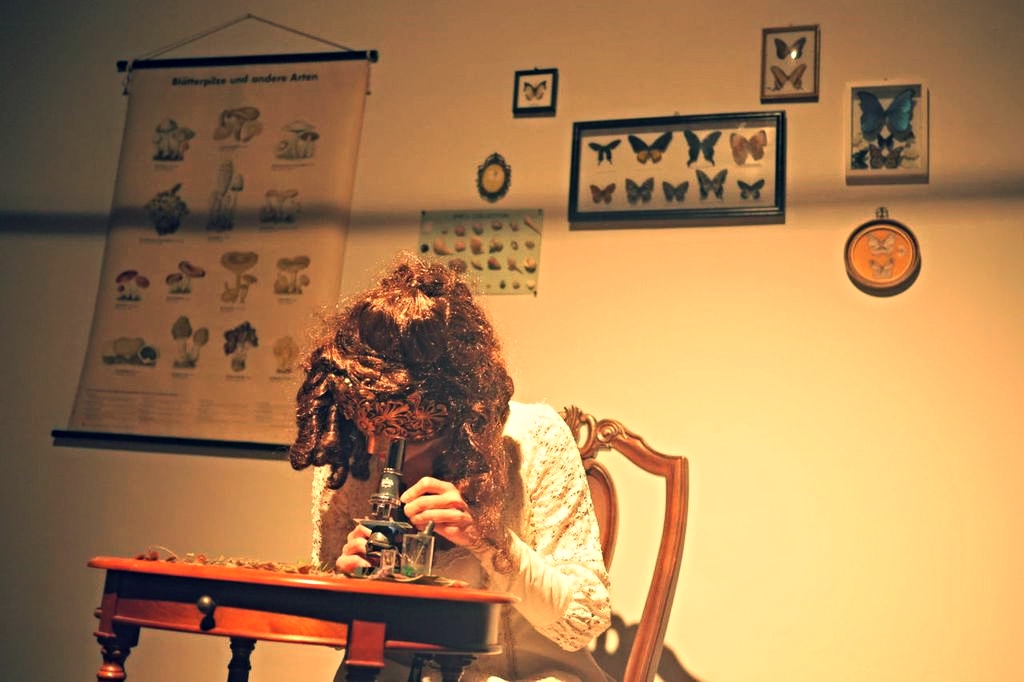 Conceived, designed, and co-directed by Katie Green
Co-directed by Paul Markert
Original score and muzak by Shawn Jones
Center for Re-Education multimedia installation by Bill Baird
A/V and Technical Director: Brian Stewart
Chaos/Order: Danielle Bondurant
Senior Society Members: Ben Howell, Katie Green, Shawn Jones, Jacquelyn Lies, Sean Moran, Brian Stewart
Special thanks to The Museum of Human Achievement and The City of Austin for helping produce this.
"Many effective surprises in this fascinating and original performance ritual...points of incredible insight and inspiration in the show, given quite simply as gifts to the initiates...This reviewer walked slowly out into the cool autumn evening, feeling refreshed, affirmed, and well loved...for the adventurous...an experience perhaps unlike any they have ever known before."
-Dr. David Glen Robinson of Central Texas Live Theatre
"Masks, robes, blindfolds, trust exercises, meditation, video, an invitation to primal shouts and to respond -- or not -- to questions; hugs, a touch of quantum physics, a touch of philosophy. No faces other than your own...A ritual moment of invitation, passage and assumption. A final blindfolded journey....Not a brain washing, exactly, but a very intimate and seductive brain rinsing that leaves you calm and slightly disoriented."
- Michael Meigs of Central Texas Live Theatre
LITTLE MOTHER - Feb 2013 - August 2014
Feathers, fur, skin, or scales?
The tape recorder skips. A memory misfires.
Somewhere a little bird falls from a great height.
A paper tiger crumples in its cage.
A baby is born.
A hermit crab grows too large for his shell.
Little Mother is a living silent film for the stage--a dark fairytale featuring subtitles, live acting, shadow puppetry, and original score performed by a live chamber ensemble.
Nominated for a B. Iden Payne Award for "Outstanding Original Score"
Little Mother was selected to be part of the New York International Fringe Festival in August 2014. It was produced and performed by Lust & Liberty and directed by Paul Markert.
"Starkly beautiful, dark, and sumptuous, Little Mother is a triumph for writer Katie Green and for Lust and Liberty. Reading like a love letter to fringe, this dust bowl fairytale is a transportive pleasure to watch...Lust and Liberty draw a line in the sand with this show and challenge their fellows to live up to the new standard."
-William Glenn, Official Fringe Review
"You will be thoroughly charmed by Little Mother, a delicate and skillfully constructed live-for-stage silent movie...The simple dialogue cards soon transition into gorgeous projections of imaginative shadow puppets, adding a layer of fairy tale to the narrative. Actually, all of the design work in Little Mother is just plain beautiful."
-Rachel Kerry of New York Theatre Review blog
"The projections are striking...A beautiful original score by Shawn Jones...visually and aurally charming...a promising fringe NYC debut."
-Morgan Lindsey Tachco of Nytheater Now
(photos from the April 2014 production at the Museum of Human Achievement in Austin, TX)
Written, directed, designed, and co-animated by Katie Green
Original score and co-animated by Shawn Jones*
Assistant directed by Ben Howell
Stage managed by Camille Lewis
Featuring:
Little Mother: Katie Green
Strong Man: Gabriel Diehl
Ring Master: Chris Alvarenga
Madame: Jacquelyn Lies
Client: Sean Moran
Chamber Ensemble:
Shawn Jones: Conductor, Saxophone, Guitar
Diana Burgess: Cello
Sean Harvey and Justin McConchie: Vibraphone/Percussion
Karla Manzur: Accordion, Piano
Corina Santos and Thomas Van Der Brook: Violin
The workshop version of Little Mother premiered at Frontera Fest Long Fringe in 2013 starring:
Laura Ray as Little Mother
Nathan Brockett as Husband
Andrew Butler as Client
"Another criminally under-seen play, this short shadow-play penned by Katie Green was one of the most startling presentations this year. A fable full of whimsy, heartbreak, and horror, it uses clever puppetry, and excellent music and sound design, to tell show us dual stories of a young mother pushed to her limits to make ends meet, and a fable of two circus animals, an elephant and a chicken, whose lives change when they come across an abandoned child. The piece flows over one like a passing dream, at times a nightmare, but it's a dream this critic simply didn't want to wake from."
- Ryan Johnson, Texas Lifestyle Magazine (named one of the top 10 theatre productions in Austin, TX of 2013)